Tū rangatira: te kaitātaki i te mātauranga kaupapa Māori
Tū Rangatira: Ko te kaupapa o Tū Rangatira: Te Kaitātaki i Te Mātauranga Kaupapa Māori, he whakatakoto tauira o te tū hei kaitātaki e whakaata ana i ētahi o ngā tūranga me ngā kawenga matua a te kaitātaki e tino puta ai ngā ākonga Māori i ngā mahi rapu mātauranga.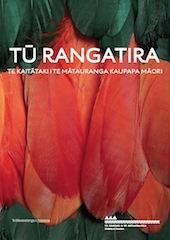 Ko tēnei te rauemi tuarua o te huinga mo te Rautaki Tumuaki, ara Kiwi Leadership for Principals and Leading from the Middle: educational leadership for middle and senior leaders. Ko ēnei huinga pukapuka e whakaatu ana i te mātauranga, ngā pukenga me ngā painga, kei te putake o ia reanga o te mātāpono o te mātauranga.
Download
Tags: Culturally responsive leadership