Kiwi leadership for principals: principals as educational leaders
The main purpose of Kiwi Leadership for Principals (2008) is to present a model of leadership that reflects the qualities, knowledge, and skills required to lead New Zealand schools from the present to the future. At the heart of the model is a clear focus on how we can work together to improve educational and social outcomes for all our young people.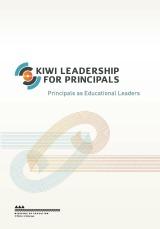 This resource is the first in a series that includes Tū Rangatira: Māori Medium Educational Leadership and Leading from the Middle: educational leadership for middle and senior leaders
Together the series describes the knowledge, skills and qualities that are at the heart of every level of effective school leadership.
Link to content
Tags: Professional Learning and Development