Tū rangatira: Māori medium educational leadership
Tū Rangatira: Māori Medium Educational Leadership (2010) presents a model of leadership that reflects some of the key leadership roles and practices that contribute to high-quality educational outcomes for Māori learners. It focuses on leadership practices, providing insights into how effective professional development programmes can work towards strengthening leaders' capabilities, growing capacity and sustaining exemplary leadership in the Māori medium education sector.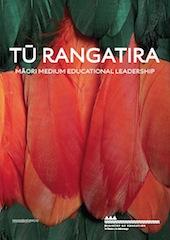 This resource is the second in a series that includes Kiwi Leadership for Principals and Leading from the Middle: educational leadership for middle and senior leaders. Together the series describes the knowledge, skills and qualities that are at the heart of every level of effective school leadership.
Download
Link to content
Tags: Culturally responsive leadership