Information for aspiring principals
The resources in this section focus on helping you to understand what is required from a school's educational leader.
Principals play a key role in developing and supporting teaching and learning in their schools, and in managing systems, staff, and students. It is a complex and challenging job, yet one that is enjoyable and rewarding. Good preparation is important.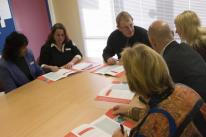 If you aspire to be a principal, here are some of the resources on this website that can help you prepare:
Update on leadership support
A new leadership support package for 2017-2018 is replacing previous leadership programmes, including the National Aspiring Principals' Programme.
See Leadership programmes for more details.