Information for middle and senior leaders
The resources in this section focus on supporting you in your leadership and management work.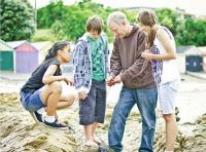 Leadership is now about empowering, transforming, and working together. It not only refers to the official leader or principal, but to other staff within the school. Teachers as leaders and teachers as supporters of leaders play a central role in school development. You can use this section to find out more about what it means to be a middle or senior leader, to explore the issues that middle or senior leaders face, and to interact with others who have similar questions, interests, and experiences.
All middle and senior leaders
Check out Leading from the Middle: educational leadership for middle and senior leaders (2012)
Secondary middle leaders
NZ Curriculum Online, on TKI, has a dedicated space for middle leaders in secondary schools.
Mentor teachers
Have you seen the New Zealand Education Council's guidelines for induction and mentoring of provisionally certified teachers? The guidelines give information about nationally consistent, high quality, and comprehensive support you can provide. 
Guidelines for induction and mentoring - Education Council website
If you are already a mentor teacher and would like to extend your skills, there are a range of courses you could consider.
Courses relevant for mentor teacher development - Education Council website