e-admin login replaced
09 December 2016
e-admin login
The e-admin login for the school data portal has been decommissioned.
The school data portal is where you send files to the ministry, for example roll return and attendance files.
You now use your Education Sector Login (ESL) to access the data portal. You will no longer need your e-admin login details.
Accessing ministry systems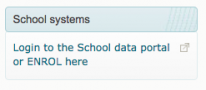 Use the School systems box on the home page of Educational Leaders to go the Schools Applications page.
The Schools Applications page gives you access to the school data portal and ENROL. To login click the OPEN APPLICATION link at the top of that page.

Help
If you are having difficulty accessing the school data portal or ENROL, or you have any questions, contact the Education Service Desk on 0800 422 599 or service.desk@education.govt.nz
Educational Leaders website updates
Home page
We will replace the word 'e-admin' on the home page shortly. At present, the e-admin link redirects you to the Schools Applications page.
User accounts
We are removing all login functionality to the Educational Leaders website itself. You do not need to have an Educational Leaders account to use the site or to access ministry applications.