Kaitao Intermediate: engagement through e-learning
by Rory O'Rourke
Experienced principal Rory O'Rourke has been leading Kaitao Intermediate School in Rotorua for 20 years. The school has had its ups and downs, but since they moved to an academy structure in 2007 and then made the decision to introduce mobile learning devices for all students in 2012, Rory says that things have really improved. Here he tells his story about the decisions the school made around moving to an academy structure and to e-learning using one-to-one computing.
The academy structure
We are a decile 2 school and 70 per cent of our student roll is Māori.
Putting in place the academy structure was a response to managing student engagement. We had a number of suspensions, stand-downs and exclusions in 2006. The Ministry came in and offered us the student engagement contract.
Through that contract we had a look at ways that we could engage our students more successfully and we did a lot of research around it. We researched boys' education, girls' education and learning preferences of Māori students. As a result we came up with the academy structure. It's been extremely successful.
The structure is very fluid. It changes each year depending on how many students want to be in each academy. They all get their first choice. There are six academies:
Accelerate – for our gifted and talented students;
Expressive – for those who enjoy drama, music, performance;
Discovery – which has an environmental and science focus,
Wero Matauranga – for students who enjoy sports, health, wellness and fitness;
Te Puna Reo – for students who want a bilingual environment;
Adventure – for students who come into school reading three years below their chronological age – that has a one to fifteen student teacher ratio.
Building on our student engagement focus we decided, after consultation with our community, to make an intentional move towards e-learning in all the academies. I have always seen ICT as an important tool.
Back in the late 1990s we were one of the first Ministry of Education lead schools in ICT. We were also the first school in Rotorua to be networked. Right back in those early days I could see that was the way things were heading. The next logical move for us has been to get to a position where every student in the school has their own device so that they can learn anywhere, anytime.
Consulting with families
You don't take the decision to go one-to-one computing lightly. Consultation is very important. Other leaders thinking about this need to make sure that they have their parent community on board before going down this road. The way to do that is to meet with them, show them, give them options and tell them why you are doing it. Make it very clear to them that it is going to benefit their child's learning. We wouldn't be doing this if I didn't think it was going to have a major impact on learning.
Our families don't have disposable income; many of our parents are unemployed and live in rented accommodation. You can't tell these parents that they going to have to buy a tablet or an iPad without explaining why and trying to support them through it.
We had a parent information evening in Week 2 of 2012. More parents come along than we have ever had. There was standing room only in the hall. We introduced the concept and talked to them about six different options of tablet or netbook, including one that they could have for nothing. They said that they wanted a reputable brand and they wanted it to be a reasonable price. They didn't want junk.
When we'd made the decision we had a second consultation meeting with families where we presented the preferred tablet and showed them its capabilities. We also asked them all to sign a protocol about appropriate use of the tablets. At this meeting I made a commitment to parents that at the end of the year we would be able to show that the devices had made a positive difference to their child's achievement.
Buying the tablets
We spent six weeks researching different companies. I was looking for a sponsorship deal because we were buying in bulk. Finally it was a conversation I had with a principal from Tauranga that sealed it. He said that six Tauranga schools were going to buy Sony S tablets and that we could piggyback on their deal. We did that and got them for $505 including GST. The tablets came with 16GB, a 3-year warranty, a really good camera, video, and a touch screen. Our parents ordered 150 straight up.
Even though the deal was good, we had to work out how we going to support parents to buy them. We decided to lease them through Equico Finance, but this added another $50 or $25 a year on each device. We have a business partnership with Grand Circle Overseas Travel, so I asked them if they would subsidise the tablets by $100, they agreed and the price came down to $450 each.
I asked families for a $100 deposit and they had various weekly / fortnightly options to pay off the rest at an affordable rate. The tablet was theirs the day they paid the deposit. So far 220 of our kids have got them. The majority of those are Year 7s. Parents have added the tablets to their home contents insurance.
We have students who are coming here next year already putting their deposit on and paying them off which is quite amazing really! Our expectation next year is that every student will have a mobile learning device.
Students who do not currently have their own device are not disadvantaged. Every classroom has at least 7 PCs. We have 15 'roaming' iPads plus 10 e-books that teachers can access on a daily basis.
Are the devices making a difference to students?
We have an in-school inquiry project around this. So far most of the data is anecdotal, but we have some hard data in a simple area like basic facts. We have had a group of students without the tablets who are our control group and a group who have them. The basic facts knowledge of those with the tablets has improved by 23 per cent over six weeks.
At the moment we are on an accelerated literacy learning contract. The focus is on writing. Each classroom has a target group of six kids. Over a fifteen-week period we are monitoring students who have the Storybird app, plus some other apps, on their tablets for writing and those who are writing without tablets. Partly due to the contract and partly due to the tablets, we have already seen a huge increase in the quality of our kids' writing – it's just amazing. You go down the staffroom and the teachers are all talking about writing, where they are taking these kids, and what they are doing and how they are using the tablets. It's just great.
We are also using the devices for digital story telling which has helped our writing too. Many students who need special support are in our Adventure academy. Those students have made some amazing movies and are just so engaged when you go in there.
Moving to hand-held devices has also had a very settling effect on students in the classroom. For example we have an attendance award each week. You get 100 per cent for all in your class being on time, and you get 100 per cent for no absences. The class which wins more times than all the others is our Adventure academy. Many of these students have been chronic truants at their previous schools. So that's rewarding – they want to come to school, they are engaged.
Professional learning
The professional learning for our teachers is differentiated. One of the areas that I have been fortunate in is the people who work alongside me. Differentiated professional learning only works if you have got someone to deliver it, someone who knows what they are talking about and someone who has the respect of the rest of the staff.
I've been fortunate that I have got two people who are right up there – my network manager, and our ICT tutor who works with individual teachers through the week on a one-to-one basis according to needs. We are also fortunate to be on the Blended e-learning contract with Core Education as our provider.
I also have a very switched on deputy principal, particularly in this field. She wasn't totally convinced that we were going down the right track with the mobile learning devices but now she is fully on board, she can see the difference one-on-one computing has made.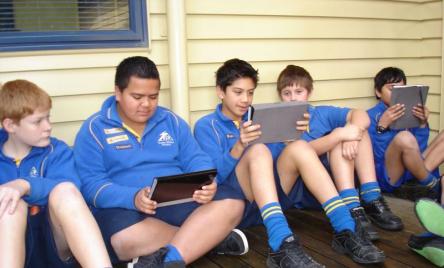 Reflective questions
These reflective questions might guide you in your reading of this story:
While the focus of this leadership story is the academy structure and mobile learning, the real driver behind both innovations is student engagement. Rory acknowledges that past challenges led to these strategic decisions. Where is your school in terms of student engagement and what planning might help you to address any disengagement?
Kaitao Intermediate is in a low socio-economic area. Rory and his team took some bold steps to ensure that every child has or has access to a mobile device. If you are considering a move like this, how might you address the kind of issues Rory faced?