iPads in the east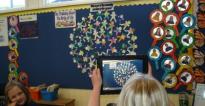 In 2012 the Greater Christchurch Schools Network (GCSN) successfully applied for funding from the Department of Internal Affairs to provide digital devices and software that would support the learning of students who attended 11 primary schools in the Pegasus area of Christchurch.
The opportunity to have digital devices linked to each school's new managed wireless network had been unthinkable the year before. The 2011 earthquake had wreaked havoc with the cabling systems in the schools.
Running internet-enabled devices when the infrastructure had been destroyed was impossible. With Carol Moffatt of GCSN providing the impetus, leaders in this cluster group of eastern schools came together to try and plan around how they would respond to this challenge.
An successful approach to the Ministry of Education for funding specifically targeted at fixing the ICT infrastructure allowed the GCSN team to help the 11 schools get managed wireless networks established in each and their internet connections back up and running.
Getting devices into schools
The next challenge was to put devices into the schools to support teaching and learning. South New Brighton, a decile 5 school, requested and received over 120 iPads from GCSN to support their programmes.
Even before the quakes South New Brighton had a reputation for futures-thinking in ICT. Ryan Pearce, the school's ICT lead teacher, and a small "think tank" of other teachers – the e-learning team – had been embedding ways of working with technology for a number of years. Ryan says that by the time the new iPads arrived teachers at the school had had some experience in blended e-learning.
"Along with John Bockett (the principal), our e-learning team had developed and been following a strategic vision for ICT before we got our new iPads. We started a couple of years ago by getting digital displays in every room, so that teachers could connect their laptops into them and project content for students. All classrooms had three computers, and we also had a few iPads that learning support teachers had been using with those who needed extra support in literacy and numeracy. The iPads came at a time when we had been thinking about how we could put more tools into the hands of our students. So the timing was perfect."
ICT leadership builds staff confidence
John and Ryan note that devices like iPads do not, of themselves, make a difference in the classroom – it is how teachers and students use them that make the difference.
Effective implementation requires teachers to think differently about how they teach, so that the technology can be used to its full advantage.
Ryan says that building the confidence and capabilities of teachers over the last few years was key to them successfully integrating the iPads into everyday teaching.
Along with his e-learning team Ryan has been mentoring individual teachers to ensure that they are familiar with the devices and can use them to support the teaching of literacy and numeracy. He also set up "team experts" who attended all PD sessions and were able to share their knowledge with others.
In March 2013 each teacher received an iPad and all classes have been given between 5 and 7. Teachers who feel less confident in using the devices have been paired with an e-learning buddy so that they can talk together about teaching strategies and trial apps that are relevant and contribute to learning.
Says Ryan: "We want an iPad to be a tool that can be used both by teachers and a tool which kids, with a bit of support, will pick up and fly with."
Apps for learning
Flying is the order of the day in one classroom where students are working on descriptive writing. A downloaded augmented reality app – Dragon Detector – turns the iPad into a viewer that shows 3D dragons flying around the classroom. A great source of inspiration for writing!
Ryan says that this app has been particularly useful in the literacy programme for this class. "Students who have been reluctant to write have found this app a good support. It is engaging content, and the fact the dragons move around in a space that they know has provided a creative yet concrete context for them to experiment with and build confidence in descriptive writing." One student takes a "photo" of the dragon in the classroom and uses another app, Pic Collage, to create a separate image that he can write descriptions of his dragon on.
In another classroom students are using Meteor Maths, a game-focused app that supports the four mathematical operations: addition, subtraction, multiplication and division. Says Ryan, "I was talking to a teacher who had been using Meteor Maths. In Maths, games can good be a good way to reinforce learning through playing. In this case the learning need was to improve basic facts and it definitely met this need for two brothers. The younger brother of another boy in the school saw that his older brother was using the app in his class. A competition developed between the two boys with the younger boy improving well in the four operations in an effort to catch up with his older brother. Meanwhile the older brother is improving, because he's trying to keep ahead! "
Ryan says that some creative activities are being completed more quickly now that there are multiple devices in each classroom. "Groups in a class were developing music videos for New Zealand music week. Throughout the month of May we sang, listened to and watched NZ music as part of our music focus. The video was made as a celebration of this unit and was a cool way to share what we had learned. They used the Pic Collage and Puppet Pals apps to manipulate graphics, then transferred their work to laptops to splice footage together to make their videos. Instead of the work taking weeks it took days – and the products were great."
Home links
John says that the behind all of this is the drive to support and improve the achievement of students. "In the iPad we have a tool that really engages students and makes learning more powerful for them. Lots of parents are asking how they can use the impetus this has generated. They want to know what apps they can put on home devices to dovetail with the work we are doing at school. The devices have been fantastic for the school and we are really grateful to the Ministry and GCSN for making this happen."
Reflective questions
These questions might guide you in the reading of this story:
Consider what your own learning needs are for understanding how to utilise powerful e-learning tools like the iPad. How will you build your knowledge so that you can work in an informed and credible way with staff?
What is your strategy for building the confidence of teachers in using handheld devices as a learning tool?
How can you harness the knowledge of students to assist you in developing your e-learning strategy?
What use have you made of the e-learning planning framework?
Many schools are aiming to work in a more 'blended' way with students - using a mixture of regular classroom teaching and e-tools. Have you accessed support to help you consider this way of working?
Tags: Leadership and ICT, Pedagogical leadership