Modules for first-time principals
These online modules provide easily accessed learning opportunities for first-time principals, but have relevance for all principals.   
They support the professional learning and work of new principals by increasing their influence as educational leaders in their schools. 
They were developed for use in the First-time Principals Programme (FTP). This programme ran from 2002 - 2016.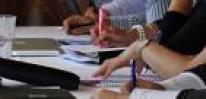 This module provides frameworks for first-time principals to use to develop a school self-review plan. 
This module for first-time principals covers current research about effective classroom teaching practices that improve student achievement; strategies to identify these practices; and resources to help principals introduce effective practices to their schools.